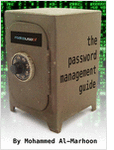 Let's be honest. Most people have a small set of passwords they reuse on multiple websites. They come up with a password they think is secure, but by reusing the password on multiple sites, a compromise of one account results in a compromise of the rest.
But nobody would want to hack you, right? Wrong. There's a lot of value in a compromised account.
Do you use Amazon.com? A compromised account can order goods and have them shipped to a different address.
Do you use PayPal? A compromised account could wipe out your bank account.
Do you email family and friends? A compromised account could be used by scammers to trick your family and friends into sending money through Western Union to the scammer overseas.
Do you use social networking? A compromised account could be used to spam your friends
But remembering multiple, complex passwords is hard!!!!
It doesn't have to be.
I was very impressed by the information contained within The Password Management Guide.
The guide covers the following topics and more:
Dangers of password re-use
How to create a secure password
Examples of available password manager programs
Two-factor Authentication
How to monitor to see if your password has been compromised
I found the guide very well written, and it should be extremely useful to anyone regardless of "tech savvy" level.
And the good news is, for a limited time you can get the 35 page eBook FREE!
Download Here!
Do you like the guide? Hate it? Feel free to let me know in the comments section below.